A cluttered desk BEFORE our paper organizing help!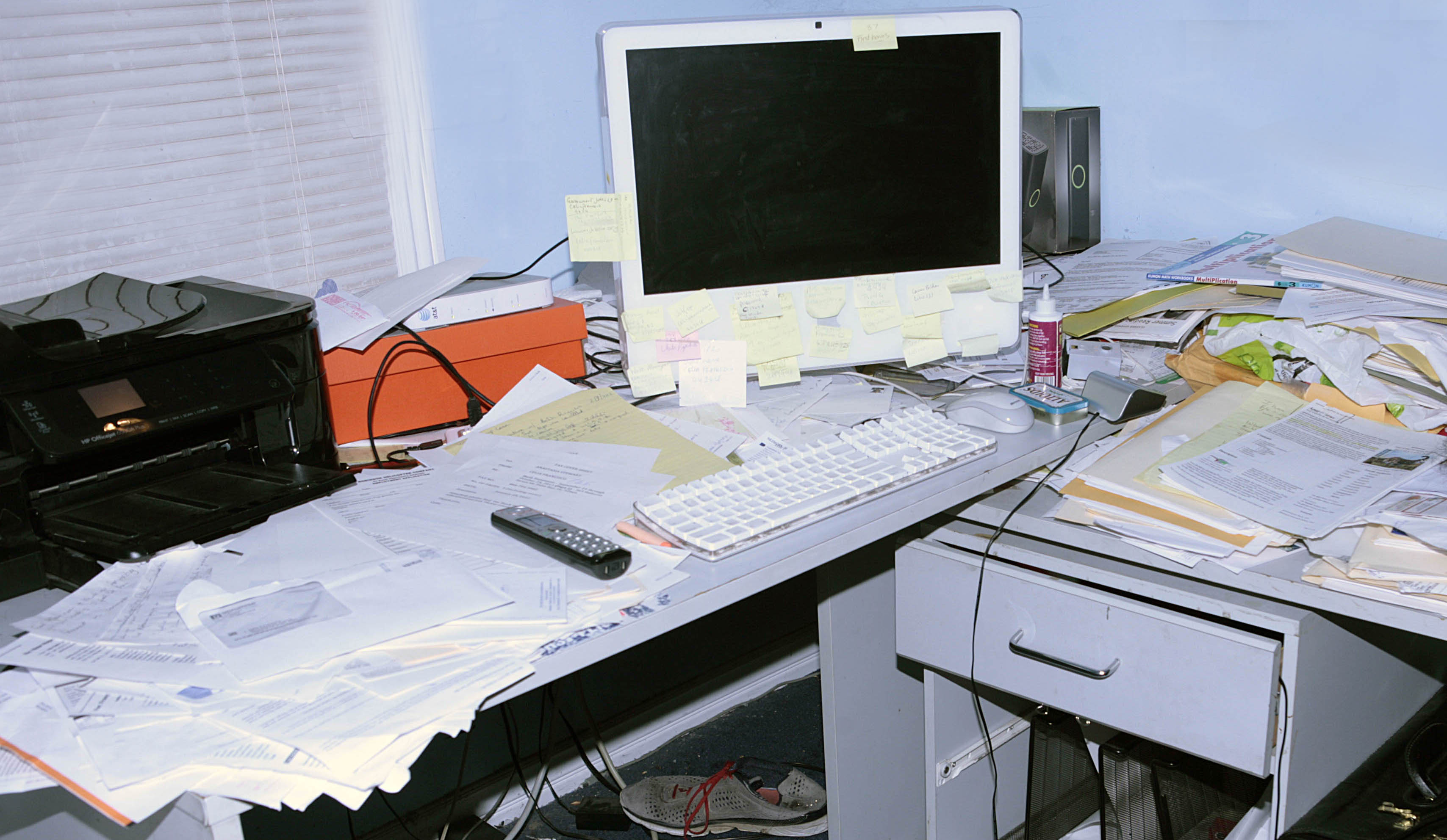 The same desk AFTER our paper organizing help!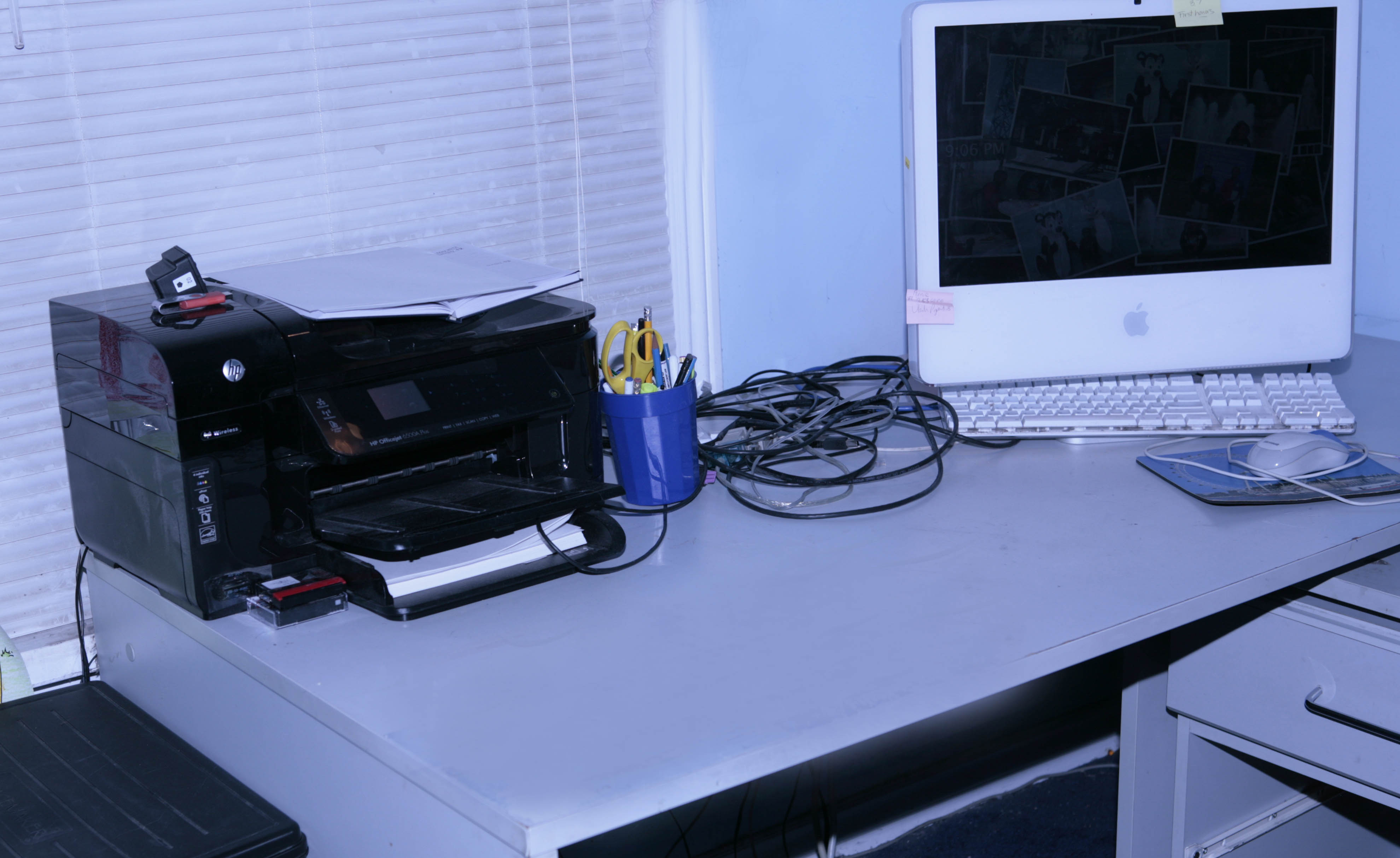 Did you know that, according to the National Association of Organizing & Productivity Professionals (NAPO), the average American receives 49,060 pieces of mail in their lifetime and much of it is junk mail?
At the same time, the Small Business Administration reports that 80% of the papers we file are never looked at again.
Paper clutter can take many forms – from bills and receipts piling up – to business and inventory documentation issues.
HOPE Organizers, Inc. specializes in paper organizing & management for your home or small business, and will turn your paper management problems into paper management solutions. We are known as "The Paper Organizers" and we'd love to help you tackle your piles of junk mail!
Janet serves as a paper detective, solving the mysteries of old papers, for example, is this insurance policy still active? Does this brokerage account still exist? What happened to the money from this uncashed check? What happened to this forgotten bank account?
Janet will uncover the answers for you.
Paper Organizing & Management Made Simple
Janet and the Paper Organizers can help you:
Sort, purge, and organizer overwhelming amounts of paper

Teach you how to handle junk mail

Streamline your receipts and claims

Organize and file your important documents

Pay bills and manage financial records

Show you what to keep and what to toss

Create a filing system that works

Help you maintain your new paper organizing system
You already have support systems in place at your home:
Perhaps you have a gardener who mows the grass on a regular basis?

Maybe you have a pool man monitoring the chemicals in your pool?

Maybe you have a housekeeper?
Why not add a paper organizer to the mix?
Get a Handle on Junk Mail and Avoid Scams
Many documents come through the mail that look very "official", very "legal", but they really are just solicitations. With our paper expertise, we can very quickly segregate junk mail from legitimate mail. We clear out the piles of paper and unopened envelopes.
We keep the "behind-the-scenes" of your home life and business life organized, so that you can stay on top of your clients' needs, prospecting new clients, collecting your accounts receivable, and family matters.
As part of paper organizing, HOPE Organizers, Inc. also provides financial organizing and daily money management services.
We help keep clients' financial documents current, paid, organized, and filed so that insurance claims can be reimbursed in a timely manner, business deduction receipts are kept in order year-round, and business trip expenses are reported on company expense reports. 
We reconcile bank ledgers and credit cards statements, so clients know exactly how much money they have. We will sort your mail and pay your bills on time to avoid late charges and collection hassles.
Client information is always kept confidential.
We are The Paper Organizers - We Know Documents!
Janet is a paper detective. She has tremendous patience to go through mounds of paper and boxes of old documents, piecing together which financial documents go together.
She deciphers which life insurance policies still exist and solves the mystery of which investments are still viable and which bank accounts still contain money. She wants to make sure that clients' financials are all in order in the event a family member or executor has to close out an estate.
You can rely on HOPE Organizers, Inc. to become your support system, so that you can concentrate on increasing your own clientele instead of trying to stay organized.
Have a Professional Organizer accomplish those projects hanging over your head! Our passion for organizing and handling important documents will help you remain sane and be free of mental clutter, so that you can focus on your passion and purpose!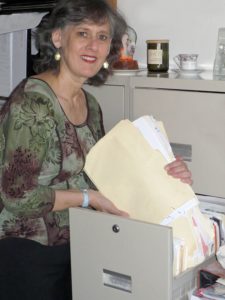 "As an attorney, I have used Janet to organize my home office and create systems to manage my mail and calls. She is great because she helps me work efficiently and move my projects and proposals along. She also helped me organize many successful seminars and training programs when I taught legal research to law students."

C. Elizabeth F., Esq., Attorney-at-Law
"Janet organized an on-boarding workshop and instructional workbook for my new employees that were invaluable training resources. Her attention to detail was amazing. She is extremely professional, innovative, and conscientious. I enjoyed working with her very much."

Lydia F., J.D., Director of Marketing
"Janet, I woke up this morning feeling so much lighter, inspired, and happy about my paper and files being organized. It has given me energy to move forward with doing my taxes. I look forward to doing even more organizing. Thank you for helping me bring my life back in order."

-Beth J., Business Owner, Marina Del Rey