Do you have a lifetime of photos in drawers, bags, and boxes?
Do you have old albums that are yellow and faded?
Do you have those magnetic, "sticky" albums with discolored pages destroying your photos?
Did you inherit boxes of photos?
Are you getting ready to move or downsize?
Would you like to digitize your photographs to pass on to family members?
Do you need help backing up your photos?
Whatever your photo organizing needs, we can help!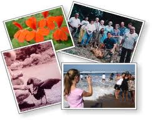 Popular tasks:
Traditional Photo Albums
Printed Photo Organization
Digital Photo Books
Archival Products
Custom Framing
Scanning Services
Creating Traditional Albums and Digital Photo Memory Books
Do you wish your photos were in albums to enjoy? Do you lack the time to do it yourself? Let us make the albums for you. Whether you prefer the look of a traditional album or a digitally-produced photo book, you can be confident that your memories will be preserved for you and your family to cherish for years to come.
Customized Photo Items
Have fun with your photos and create note cards, holiday cards, calendars, mugs, posters, video and much more to celebrate special events and occasions and use as gifts. We can help you bring your cherished memories back into your life with photos!
Save Your Old Photos and Home Videos
If you have old photos that are fading or old home movies and videos that have been replaced with new technology, then you might consider preserving them by converting over to DVD. Old prints, negatives, slides, and family movies can be color corrected and scanned onto DVDs.